This Week's Favourites – 5th June 2009
In the first of a new series of posts about our favourite finds from around the web over the last week, I will be looking at useful but little known web applications that might just make your life a little easier!
My second favourite find of the week is Evernote – Just 11 months after leaving a private invite only beta, Evernote reached it's 1 millionth user yesterday.  This awesome bit of software allows you to easily capture information in any environment using whatever device or platform you find most convenient, be that your PC, Mac, iPhone, BlackBerry… you get the idea. Oh, I forgot to mention — it's FREE!
Now I know we bang on about it all the time, but site monitoring is important, especially for business websites.  To that end, I've found you a free monitoring tool called 'Are My Sites Up?'  The free plan will check up to five sites at least 25 times per day, and you even get unlimited email and SMS notifications… it'll even send you a twitter DM if your site goes down!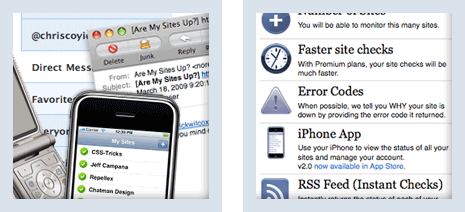 My fifth find might be really useful for some of you web and graphic designers. 45 degree scan lines were very hard to make perfectly until Stripemania came to the rescue with their stripe generator — what a great time-saving idea!
This week's great articles from our favourite blogs.
SpoonGraphics: Beginner Illustrator Tutorial – Create a Vector RSS Icon
SpoonGraphics: Create a Bright Retro Grunge Vector Illustration
CatsWhoCode: 10 Easy Ways to Secure your WordPress Blog
CatsWhoCode:  10 tricks to make your WordPress theme stand out
SmashingMagazine:  Beautiful High-Quality Free Fonts For Your Designs
SmashingMagazine: 9 Crucial UI Features of Social Media and Networking Sites
Are you looking for UK web hosting? Then check out our UK web hosting plans!